Description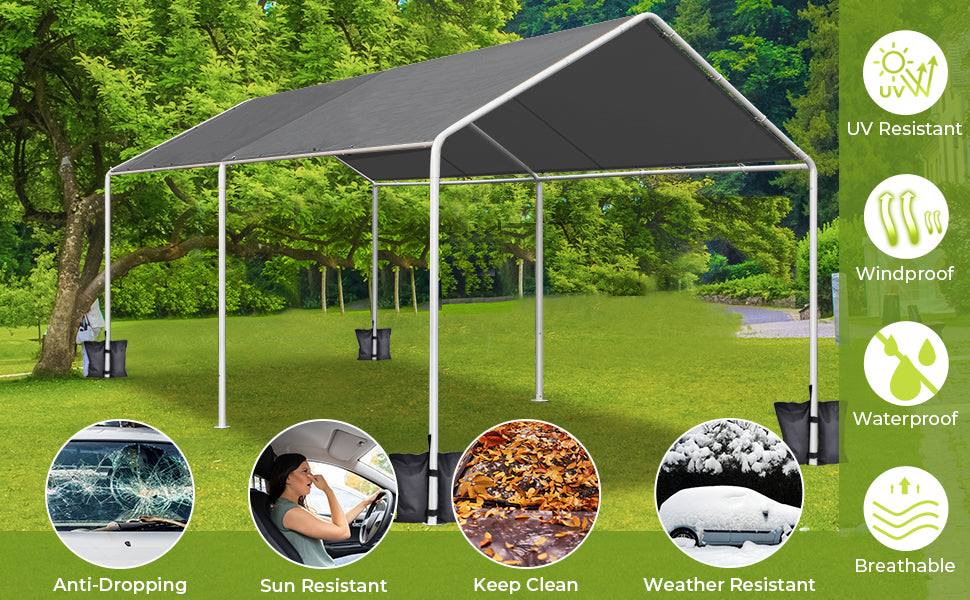 STURDY FRAME: The heavy-duty steel frame with 6 poles was designed with a thicker 1.5" steel tube that weighs more than other similar styles making it more stable and safe during windy conditions. It is also powder-coated in white color to prevent chipping and peeling. Overall dimensions: 10ft W x 20ft L x 9.3ft H and weighs 89 lbs.
WATERPROOF ROOF: The 10x20 car canopy material is made from a triple-layered heat-sealed ripstop polyethylene fabric that is waterproof and is resistant to UV, fading, and scratches and can protect your car or boat year-round from all-weather elements, like sun, wind, rain, dust, and hail.
MULTI-USE: The car canopy is perfect for commercial fairs, weddings, parties, and other outdoor events. The portable garage provides a storage shelter for cars, boats, trucks, Horse shade, Autos, ATVs, and garden equipment. The carport can be placed on decks, patios, backyards, pool areas.
EASY ASSEMBLY: Assembly of this carport is easy if you follow the included instructions. We have also included 10 stakes, 6-foot pads, and 4 ropes to help secure the carport once assembled.
1 YEAR WARRANTY & 4 Durable Sandbags: Included-1 Year Warranty for Frame and Canopy Cover. You can use 4 Sandbags to Increase the Weight of the Car Canopy.
Specification
-Canopy Color: Green
-Dimensions: 20L x 10W x 9.3H FT
-Sidewall Height: 6.6ft
-Canopy Material: Polyethylene(PE)
-Pole Diameter: 1- 1/2 in (38mm)
-Number of Legs: 6
What did We include?
1 X Steel Frame
1 X Canopy Cover
6 X Steel Pegs
4 X Weight Bags
10 X Steel Auger Anchors
4 X Ropes
1 X Instruction Manual
Payment & Security
Your payment information is processed securely. We do not store credit card details nor have access to your credit card information.