Description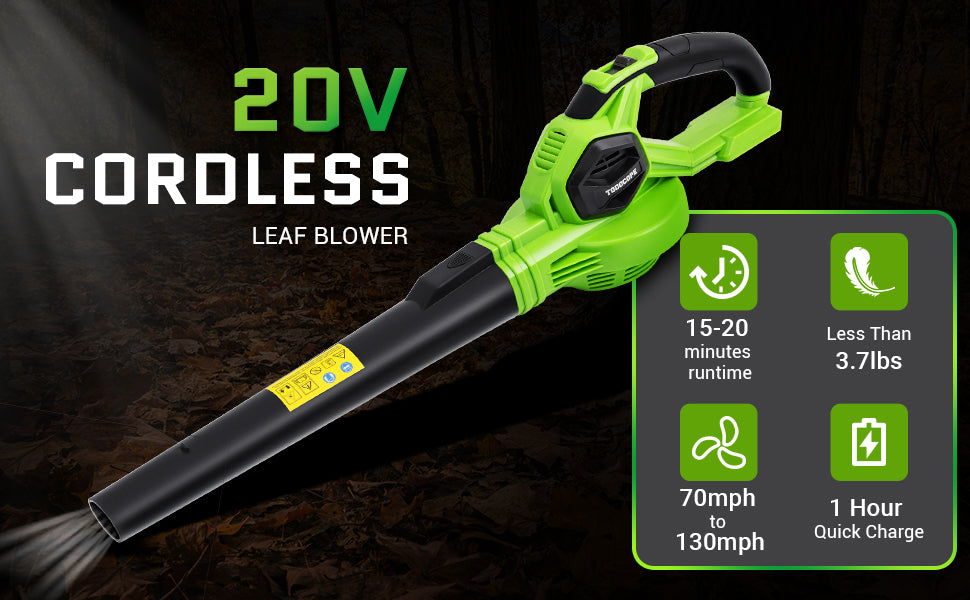 Lightweight But Powerful: Cordless battery-powered leaf blower designed for family work has a super light body which weight less than 3.7 lbs (with battery), Two modes, 70mph to 130mph, can be comfortably operated by one hand, could help you easily convert from indoor work to outdoor work, easy to use and store.
1 Hour Quick Charge: The battery blower included a 2.0ah 20v battery that could support you for 20-min work for the first mode and 15-min work for the second mode. A full charge will take 1 hour using included fast charger (please do not charge overnight).
Cordless Convenience: The blower cordless no longer needs a heavy backpack or trip over an extension cord. It is battery-operated, relatively quiet yet robust. easily and quickly sweep leaves, sticks, and debris from hard surfaces like driveways, decks, porch, and garages, especially for those hard-to-reach areas, this blower can quickly clean them up!
Ergonomic Design: The cordless blower handgrip is wrapped with flexible rubber, provides a comfortable grip for one-handed operation, and helps you prevent slipping when using. This leaf blower cordless with battery and charger only requires two installation steps. Insert the tube and extension tube, then insert the battery, you can start to enjoy the sense of accomplishment of cleaning your beloved courtyard in one minute!
What Would You Get: Our battery-powered leaf blower is equipped with 2 tubes that are suitable for low and high heights. No need to squat down, bend over or raise your hands, you can use a battery-powered blower in a relaxed posture. Remove the tubes, the electric leaf blower cordless can be stored in a small box. You'll get 1 *20V Max Lithium-Ion cordless blower, 1 *20V 2.0 Ah Max Lithium-Ion battery, 1 *Charger, 2 * Blow Tube, and 1 * User Manual.
Maintenance
• Before putting away or cleaning, switch off and re-move the battery pack.
• Only suitable for TODOCOPE batteries, please do not use batteries of other brands
• We recommend that you clean the equipment im- mediately after you use it. Ensure that no water can get into the interior of the equipment.
• Store the device in a dry and frost-free (10-25 °C) place. Store the battery and the device separately from each other.

Specifications
· Motor voltage: 20 V
· Rated speed: 70mph to 130mph
· Weight: 3.7 lb
· Charge time: 1 h
Payment & Security
Your payment information is processed securely. We do not store credit card details nor have access to your credit card information.