Description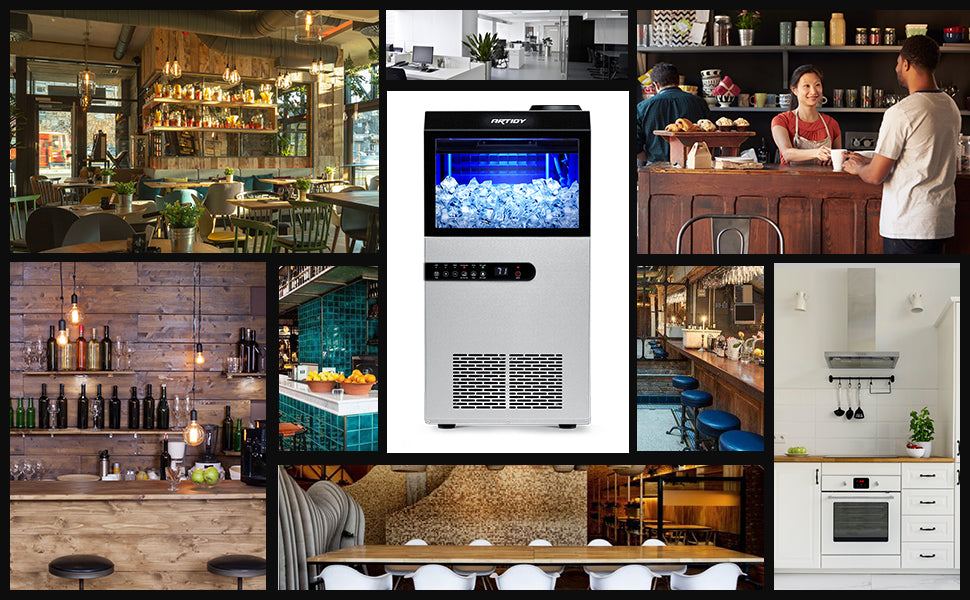 Fast Productivity of Clear Square Ice - High-quality commercial ice maker can continue to produce up to 60pcs ice cubes one cycle within 12-29 mins and 100LBS within 24H. with a storage container for 33 lbs of ice, ideal for home, office, restaurant, bar, coffee shop.
Simple operation]Artidy's commercial ice maker machine is equipped with an LED control panel, which has the function of the timer, auto clean, water shortage alarm, ice full alarm, fault alarm, ambient temperature display, appointment time, and so on. Then you can operate the ice machine more easily.
Two Water Connections - The commercial ice machine provides two water connections. One is bucket water, the connection is on the top of the ice maker machine; the other is tap water. When using different ways, the inlet valve of the other way needs to be closed. And remember to use room temperature filtered drinking water.
Sleek Design and Low Noise - The ice machine maker is made of stainless steel, which makes it more durable. Equipped with a galvanized sheet, which looks luxurious and compliments the decor in any shop or room. The low noise provides your friends, customers, and you with a comfortable environment to enjoy drinks with cold clear ice cubes.
Warranty and Attention - we provide a 1-year warranty & full money-back guarantee & lifetime customer service support for the ice maker. Approved for commercial use. Be sure to keep the under-counter ice maker upright for 4 to 6 hours before using it. And if producing too many more ice cubes that will not be used immediately, please remove them into the freezer.
More details you need to know
Do not use it directly
Before use, make sure to put the ice maker upright for 4 to 6 hours, Prevent the ice-making effect is not good.

Wash before use
It is recommended to use a special cleaner to wash this commercial ice machine. You need to manually add water and wash it back and forth several times to make it safer.

Store ice cubes
This commercial ice maker does not have the function of freezing ice cubes, you need to remove the ice cubes in time and place them in the freezer compartment of the refrigerator.
Payment & Security
Your payment information is processed securely. We do not store credit card details nor have access to your credit card information.