Description

2 in 1 Air Valve Design
It's a revolutionary innovation on the air valve! There is no need for an air valve cap anymore. You don't have to worry about missing it.

You can vacuum bags by extruding or sitting on the bags to exhaust 80% air out, and then use our exclusive hand pump to finish the compression work. Save a lot of time and energy for you! User friendly! You deserve to have it!

Besides, you can use any other electric pump or vacuum cleaner directly. Provide the most convenient using method to you.

No matter you use a hand pump or an electric pump, vacuum cleaner, there is no need to find an air valve cap to keep air-tight.


SPACE SAVING: This package includes 6 combo sized bags 1 X-Jumbo (39" x 51"), 2 Jumbo (30" x 40"), 2 Large (24" x 32"), 1 Medium (20" x 28") / 8 combo sized bags 1 X-Jumbo (39" x 51"), 2 Jumbo (30" x 40"), 2 Large (24" x 32"), 2 Medium (20" x 28"), 1 Small (16" x 20") that can be big enough to store comforters, pillows, blankets, clothes, and more; These multifunctional storage compression bags can save up to 80% storage space in your closets, under the bed, in drawers, storage rooms, and more
TIGHT VACUUM SEAL: These vacuum bags for storage are designed with a double zipper that locks when sealed together; Once the air is removed, a tight seal remains to keep your stored items dry and clean from dust; When you close the bag, the yellow lines will be inserted into the two blue lines, showing that the bag is well-sealed
QUALITY MATERIAL: Our storage bags are constructed of a tear-resistant, safe material that is thicker than our competitors; All high-tight vacuum-sealed bags are reusable and resealable
FREE PUMP INCLUDED: A complimentary hand pump is included with the bags; You can remove most of the air from the vacuum storage bags by simply just sitting on the bags without the use of any tools; To remove the remainder of the air, use the free pump included; The air can also be quickly removed by a vacuum as well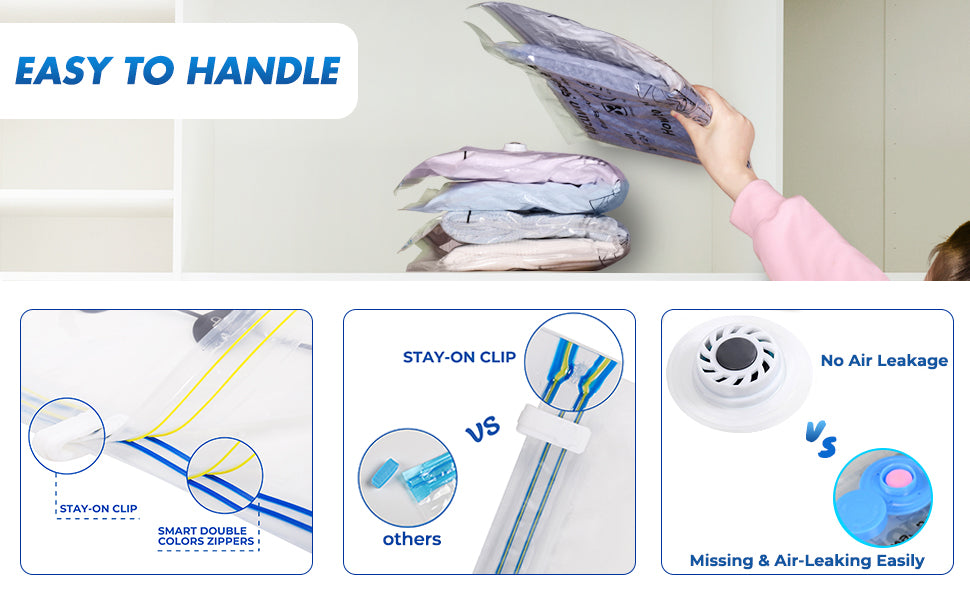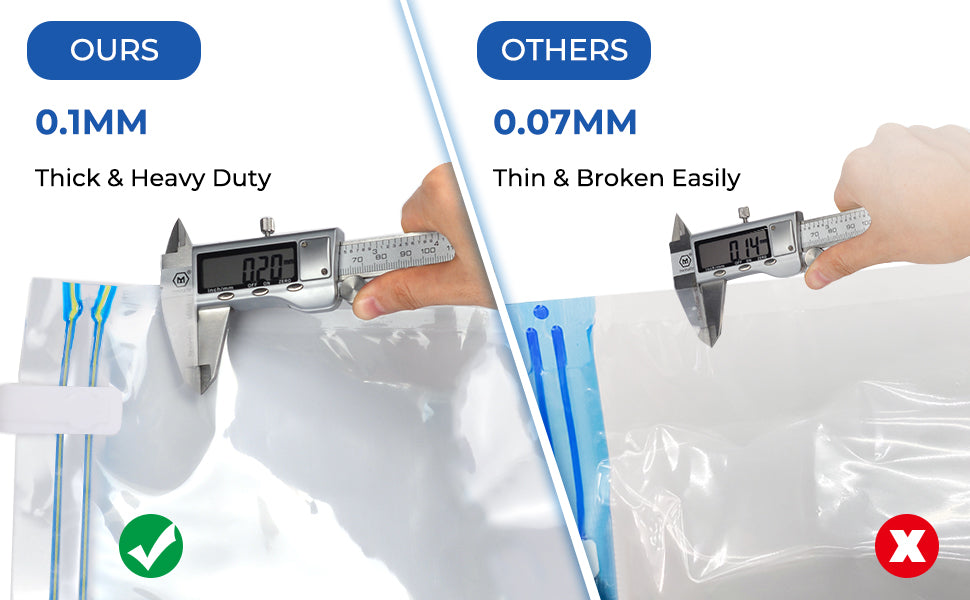 Payment & Security
Your payment information is processed securely. We do not store credit card details nor have access to your credit card information.